In July 2009, Gary Anderson made his World Matchplay debut.
The Scot did it with a win, as well. An impressive victory over Andy Hamilton set up a second round meeting with James Wade, which was won by the 2007 champion. In that same month, Dimitri van den Bergh celebrated his 15th birthday. Now the pair clash in the 2020 World Matchplay final, with a £150,000 jackpot and an etching on the Phil Taylor Trophy at stake.
It's a chalk-and-cheese affair, in a way. There's the vastly experienced 49-year-old Anderson against the relative rookie in Van den Bergh, 26. The former has a raft of major titles; the latter doesn't have a senior stage title. As this preview touched on before, Anderson has been a World Matchplay staple for a long time, while this is Van den Bergh's debut. A straight-laced Scot who plays fast and powers through, against a dancing Belgian with a rigid style and a penchant for self-motivational talks during games. One thing they've definitely got in common is star quality.
No Fans, Two Trophies, One Anderson
First, to Anderson. The Flying Scotsman has, of course, been here and done that. Remarkably, this is only (inverted commas needed, perhaps) his second World Matchplay final, in his 12th appearance. The last one was just two years ago, in a packed Winter Gardens, as he claimed the title in an epic against Mensur Suljovic.
Incredibly, he even has a track record in winning crowd-less majors, having stormed to success in the 2018 UK Open.
That you could say that Anderson hasn't got even close to his best resonates on two levels. One is that the two-time world champion has set himself an extremely high bar - even in not meeting it, he's into yet another big final. The other is that he hasn't been able to gather momentum over four games, and there's no time left to get his eye in.
Justin Pipe didn't provide stiff opposition, and getting on top early against James Wade kept his 2009 conqueror at bay. Anderson needed to up his game after that - and, to be fair, he did. The scoring returned against Simon Whitlock, but the doubles needed improving. While Michael Smith gave him a mighty scare in the semi-finals, Anderson's nerve held, reinforced by a 43 per cent checkout rate.
The Flying Scotsman is now one game away from a ninth major title in the PDC (and a 16th PDC TV title, including the World Cup). His opponent is after a first in all counts.
Dimi's Darts Education Faces Final Exam
Being a young superstar is no guarantee of lasting success. Just ask Arron Monk, and the young Dutchman he beat in the 2011 World Youth Championship final. 2017 and 2018 youth champion Van den Bergh had shown snatches of quality since graduating to the full-time Pro Tour scene, but there were worries that his boundless potential would be reeled in by cruel reality. Indeed, his recent floor and European Tour records are cause for concern.
But any concern has most likely been put to bed now.
A couple of things have changed the Dream Maker. One is the intensive darting getaway at the Suffolk farmhouse which a certain Wright family calls home. Another is this very tournament. The Antwerp ace had reached the quarter-finals in his previous two major showings, as well as two more before that. But nerves had told, consistency hadn't been found and Van den Bergh had been sent packing.
This World Matchplay has thrown up big challenges, and Van den Bergh has dealt with them all. First was Nathan Aspinall, a little rusty but still a constant threat - he was batted aside. Then came Joe Cullen, who can be positively frightening when in full flow. Van den Bergh refused to be spooked. In the last eight was Adrian Lewis, at his brashest, loudest and most confident in a long time.
It was there that something clicked for Van den Bergh. There was no copious sweating, no nervy muttering. Lewis' antics may have ruffled his feathers, but if so, it created a resolve that helped the Belgian grab the lead and keep hold. In the semi-finals, Glen Durrant did what Duzza does, and fought tooth and nail. This newly self-assured Van den Bergh, once again, held out.
The average against Cullen was an outlier, but the rest - 98.42, 99.67 and 98.97 - paint a picture of consistency. Now, like a 24-year-old James Wade back in 2007, Van den Bergh can shake off the "future star" tag, and become one in the here and now.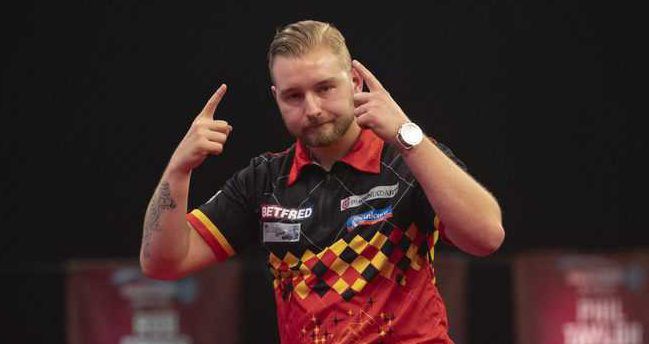 Social distance, darting parity
If you put experience above everything, Anderson is the favourite. Should averages mean more, it's Van den Bergh. There's just a 2 per cent difference in checkout success rates across the tournament, and Van den Bergh has 29 maximums to Anderson's 27. The various metrics and measurements refuse to name a clear frontrunner.
What that means is that we have a final that would've been perfect for the neutral fan in attendance at the Winter Gardens. Instead, they'll play at the Marshall Arena in front of nobody. That's a different challenge, but one that both have mustered the ability and mental fortitude to deal with so far.
As Anderson alluded to in his post-match comments on Saturday, winning a major at any time is only something a select few can do - but winning this World Matchplay will be, simply put, a unique achievement.
Come Sunday night, we'll be ready to declare the champion of what we can only hope will be the one and only 'COVID major'.
Click here for more information about the World Matchplay, including the tournament bracket, TV coverage and prize money breakdown.
Sunday July 26
Final (20:30 GMT)
Gary Anderson v Dimitri van den Bergh
https://twitter.com/OfficialPDC/status/1287155171177443335